Our "Together as One" series spotlights nurses, physicians, pharmacists and others who positively impact the lives of hospice patients and their families every day. Through the dedicated and compassionate work of these inspiring professionals, patients receive the high-quality care and attentive consideration they deserve. Together with innovative and responsive hospice partners, they create the network of support so essential to hospice care. We invite you to meet the people behind the mission—and see what one can do.


Rishma Patel, PharmD, BCPS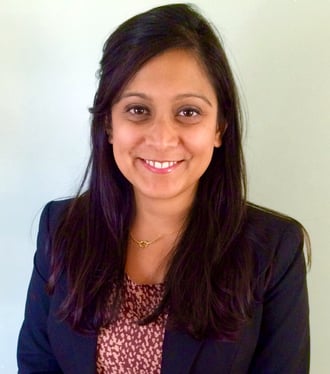 Clinical Pharmacist
Morton Grove, IL
How did you become interested in pharmacy?
As a kid, I always knew I wanted to go into healthcare, but did not know which field. While applying for colleges, my dad suggested pharmacy and I got into a direct pharmacy program. I figured why not try it—if I didn't like it I could always change to something else. It was while I was at school, taking pre-pharmacy classes and working at a pharmacy that I really became interested. I have always loved math and chemistry, which is a large portion of pharmacy, and when we started learning pharmacology and therapeutics my interest grew and I knew pharmacy was a good fit for me.
What are your favorite aspects of your job?
My favorite aspect of this job is providing consults for symptom management with healthcare providers. Though we don't interact with patients directly, I know it's our way of impacting their lives as well as those of their families.
Have you had any particularly challenging patient cases?
The most challenging patient case I had was a young woman who had multiple symptoms. We tried several treatment options, both non-pharmacological and pharmacological, and some were effective but some were not. While discussing this patient with the nurse, I found out that she had a child for which she was the sole caretaker. I believe that ultimately all of her symptoms were related to the pain and anxiety of having to be separated from her child, which can never be managed. This patient will always stick with me when making recommendations because it is so important for us to remember that social, psychological, or economic factors can also contribute to a patient's condition and well-being.
Is being a pharmacist different from your expectations? If so, in what ways?
My expectations have been exceeded. I always knew pharmacists were members of the interdisciplinary team but did not realize to what extent. We are heavily leaned on from the healthcare team because we are easily accessible, knowledgeable, and reliable. Our job is not solely to verify medications but also to provide guidance on the management of symptoms and conditions and to assist with any questions from nurses and prescribers. Our responsibilities are constantly changing and pharmacists are trained to adapt to that reality.
What drew you to a career with OnePoint Patient Care?
I was working at a large teaching hospital before coming to OnePoint and I saw a job opportunity in which I would be able to focus on a specialty. I did not know much about hospice, but it was an area I wanted to explore. I knew it would be a challenge, but it was at a great time in my life to start something new and different. I am excited I took that chance, as my time at OnePoint has provided me with many new exciting opportunities and I've been able to achieve many personal and professional goals.
Do you have any proudest professional moments?
My proudest moment so far has been presenting at the Illinois Hospice and Palliative Care Organization conference. It was a new experience for me professionally. It was rewarding too in that I had many nurses approach me after to discuss my presentation. It was a great opportunity for me to discuss medication management with members of the interdisciplinary team.
What advice would you give to pharmacy students?
Take as many different electives and rotations as possible to explore different areas in pharmacy. Clinical pharmacy has expanded significantly since I have been out of school and there are many areas to explore. I did not realize the impact a pharmacist has in hospice and I don't remember learning much about it in pharmacy school. In addition to that, the field of pharmacy is expanding and there are many more areas where pharmacists are needed (e.g. management, informatics, etc.). I recommend being exposed to as much as possible to find the best fit for you.
Has working in the hospice industry influenced how you think about death?
Definitely; I didn't know much about hospice care and how it worked before working at OnePoint. I am now able to appreciate what hospice provides. Losing someone has to be one of the most difficult things anyone has to experience. However, watching them suffer has to be worse. Death is inevitable and working in this industry has made me appreciate end-of-life symptom management. With hospice care, it makes me hopeful and brings peace of mind that patients will be cared for and will not suffer while also providing family members with support and reassurance during this difficult time.