Our "Together as One" series spotlights nurses, physicians, pharmacists and others who positively impact the lives of hospice patients and their families every day. Through the dedicated and compassionate work of these inspiring professionals, patients receive the high-quality care and attentive consideration they deserve. Together with innovative and responsive hospice partners, they create the network of support so essential to hospice care. We invite you to meet the people behind the mission—and see what one can do.


Alia Brodie, PharmD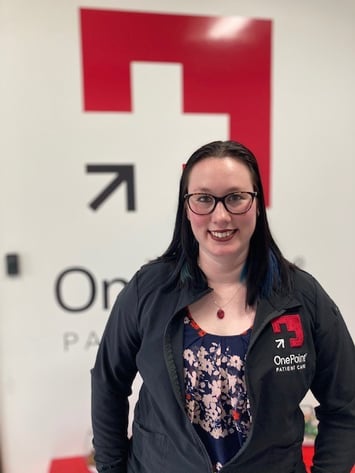 Pharmacist-in-Charge
Farmington, MI
How did you become interested in pharmacy?
My cousin graduated pharmacy school back in the early 2000's and told me about her job and how at the time there was a large shortage of pharmacists. As a 14 year old, job security sounded pretty good to me and I already knew I wanted to do something in the medical field.
What are your favorite aspects of your job?
I live for the complex clinical moments! Whether it's changing therapy to a potentially cheaper, yet equally effective alternative, or changing medication altogether based on antibiotic sensitivities. There are so many intricate clinical details of our profession that can make all the difference! There are no other "drug experts" – physicians and nurses turn to us for support when they have questions. It's very humbling to be able to offer advice like that to other medical professionals and patients alike.
What drew you to a career with OnePoint?
I had a hospice rotation as a student during my clinical year which piqued my interest in the field. It was an entirely different experience using medications, sometimes off-label, or trying to come up with alternative options. We often compound medications which is something I have always enjoyed. Not many positions in today's pharmacy profession (short of independent pharmacy) allow pharmacists the opportunity to develop and use that skill.
Have you had any particularly challenging patient cases?
Recently, we had an elderly female on methotrexate for psoriatic arthritis. She developed a symptomatic UTI while on hospice care that the team wanted to treat. The physician initially ordered Bactrim DS. Upon review, I realized these two medications could cause potentially fatal neutropenia. There had been many documented case reports of this exact situation, where elderly female patients became septic and ultimately fail. In fact almost every oral antibiotic has a drug interaction with methotrexate! The half-life of methotrexate is extremely long- multiple weeks in a patient with her comorbidities. I informed the RN of the drug interaction, who informed the physician. He still wanted to continue with the above plan, despite my recommendation against. Therefore, I called the physician directly to explain the evidence surrounding this drug interaction. During the call the physician agreed to change to Fosfomycin, which is an antibiotic we rarely get to use. The benefits included no fatal drug interaction, plus it's a one-time dose for the patient, a win all around!
Do you have any proudest professional moments?
I think my holy grail moment is when Dr. Emmanuel Rivers (the Sepsis godfather), author of Early Goal-Directed Therapy in the Treatment of Severe Sepsis and Septic Shock attended my CE presentation during residency. I completed my PGY1 residency at Henry Ford Hospital in Detroit, Michigan. It is one of the biggest hospital systems in the state and a level 1 trauma center. I was able to have numerous one-in-a-million experiences there but this was by far my favorite. I had gone toe to toe with Dr. Rivers during rounds on a separate issue days before regarding our protocol for dexmedetomidine use and extubation. Once rounds were over, I was discussing my CE topic with the team and he was extremely interested as it was sepsis relates (Double carbepenem use in VRSA and VRSE). Skip to the day of my presentation, lo and behold he showed up and sat directly in front of me, which was terrifying. Typically doctors do not attend pharmacy presentation – let alone a pharmacy resident! I was so honored for him to attend, I will never forget it.
What advice would you give pharmacy students?
Be personable. It is so important to have good interpersonal skills dealing with medical staff or patients. Our job is primarily correct mistakes and maintain patient safety – which can be hard to explain to physicians what they did wrong in a non-accusatory manner. Many people you meet may be having the worst day, so being able to converse and allow people the time to vent is helpful. It also gives you an opportunity to potentially build that relationships. If you don't like dealing with people, this may not be the profession for you.
Has working in the hospice industry influenced how you think about death?
Definitely – our typical goal as providers is to prevent death or harm. So it can be difficult to essentially "do nothing" as far as actively treating a disease state. Our goal is to make patients comfortable in their journey versus trying to cure them. This can be difficult to wrap your brain around at first. I am more at ease with death now, and less personally affected than I used to be. You know that someone's family member is no longer suffering, or has passed peacefully which provides some comfort. Our most important job is to provide a care to a families who should focus on their loved ones, and making that as worry free as possible. You understand that despite our excellent care, the end outcomes are different.