Our "Together as One" series spotlights nurses, physicians, pharmacists and others who positively impact the lives of hospice patients and their families every day. Through the dedicated and compassionate work of these inspiring professionals, patients receive the high-quality care and attentive consideration they deserve. Together with innovative and responsive hospice partners, they create the network of support so essential to hospice care. We invite you to meet the people behind the mission—and see what one can do.


Wilson Vong, PharmD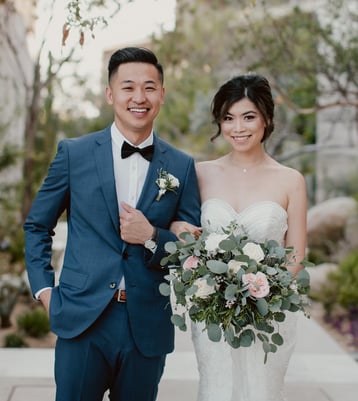 Pharmacist-in-Charge
San Leandro, CA
How did you become interested in pharmacy?
After college, I started working as a pharmacy clerk to test the waters. Prior to that, I wasn't sure if pharmacy was a path that I wanted to pursue. After working at my first pharmacy job, I quickly learned that I enjoy interacting with and helping people from different paths of life—customers, doctors, nurses, and of course, fellow colleagues.
What are your favorite aspects of your job?
My favorite part of my job is being able to work closely with other healthcare providers to give the best care for patients. That aspect intrigued me, as I was used to customer facing roles in the past. I feel like my clinical expertise is valued here, and it motivates me to be a better pharmacist.
What drew you to a career with OnePoint?
My friend, who is also a fellow OnePoint pharmacist, initially told me about the company. When I found out that the company provides both pharmacy and PBM services to patients, it drew me in. I wanted to learn more and be a part of the company because the services provided are unique and different from what goes on in a traditional pharmacy setting.
Have you had any particularly challenging patient cases?
While there aren't any specific patient cases that come to mind, I find that hospice patients often have limitations when it comes to receiving and properly administering their medications. I often get requests from nurses and doctors to come up with alternatives that fit patients' unique needs. This challenges me to think outside the box, as no two patients are the same.
Do you have any proudest professional moments?
My proudest professional moment to date is successfully opening the first California location for OnePoint. The process took a lot of time, research, and dedication. Not only did I learn from a compliance and operational perspective, I also learned life lessons that I apply to my daily life. The biggest takeaway is that patience is key, and I still apply that mantra to my professional and personal life.
What advice would you give pharmacy students?
Since the market is so saturated, you need to find a niche—preferably something that truly interests you. Also, you will hear 100 "no's" before you hear a "yes"—it's all part of the process. Don't give up.
Has working in the hospice industry influenced how you think about death?
My views on death has definitely changed. Death can occur at any age, it does not discriminate, and tomorrow is not promised. I now tell myself to live life to the fullest, have fun, do what you love, and never look back.